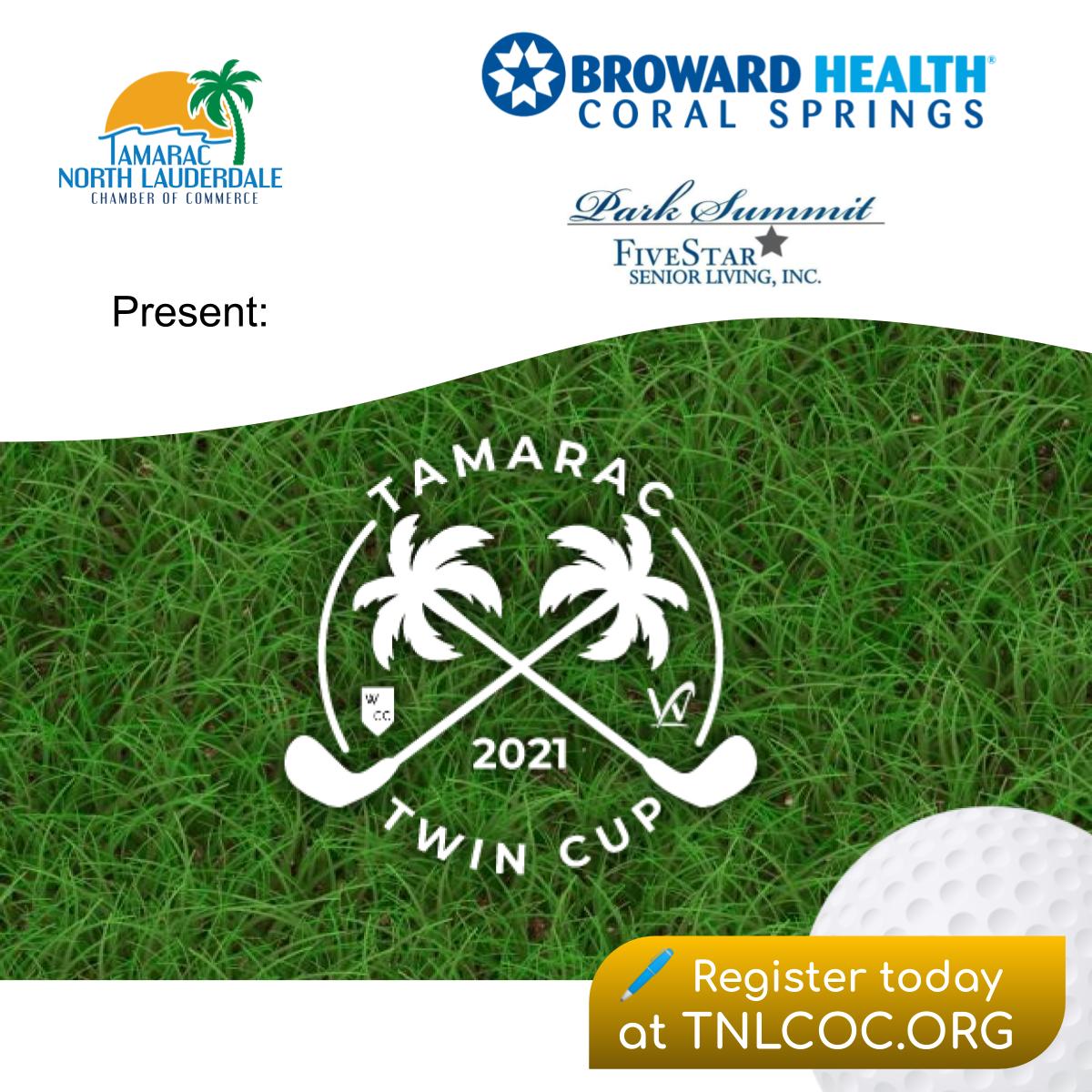 LAUNCH PRESS RELEASE
Tamarac North Lauderdale Chamber of Commerce
Contact: Peter Mason – Executive Director
(954) 722-1520 TNLCOC.ORG Peter@tamaracnorthlauderdale.org
Tamarac North Lauderdale City Chamber Announces the Launch of Tamarac Twin Cup Golf Tournament
Woodmont Country Club 7801 NW 80th Ave, Tamarac, FL 33321 4:30pm 9 holes 07/28/2021
Colony West Golf Club 6800 NW 88th Ave, Tamarac, FL 33321 4:30pm 9 holes 08/04/2021
The Tamarac North Lauderdale Chamber of Commerce is excited to announce the launch of a new event,
the Tamarac Twin Cup Golf Tournament! Two evenings at two courses playing twosome golf for the
Tamarac Twin Cup. Title sponsor Broward Health Coral Springs and Closest to the Pin sponsor Park
Summit Five Star Senior Living are excited to collaborate in this new golf tournament format. The
winning twosome over two outings will win $100 in local gift cards.
The official dates for this event will be July 28, 2021with 4:30pm start at Woodmont Country Club for
the first outing, and August 4, 2021 at Colony West Golf Course 4:30pm tee off for the second outing.
Peter Mason, the Executive Director of the Tamarac North Lauderdale Chamber of Commerce, is
delighted to have a 2 day golfing event, "We have two fantastic affordable golf venues here in Tamarac,
both of which are proud chamber members, so anything we can do to promote them and golf in our area is
something the Chamber is proud to do. It will be interesting to see the twosome winners live or work in
Tamarac!"
The Chamber invites all levels of golfers from all Cities to participate and enjoy the camaraderie. We
also welcome individuals and twosomes that are only available for one date. There will be a winner for
each outing and winner for closest to the pin. Entry fees are $30 per player with complimentary drink and
hot dog to keep the players going. Additional drinks and food will be available to purchase. Register to
play or sponsor at www.tnlcoc.org call 954-722-1520 email info@tamaracnorthlauderdale.org
All businesses are welcome to promote on the course with a hole sign at $50.
---
---